Mad Men Party Photos: Decoration and Fashion Ideas
So, I finally had my Mad Men birthday party!  As I previously blogged about, I used to be the one who cooked-six course dinners, hosted birthday parties, and holiday celebrations with friends for years before I got myasthenia gravis at 24.  When "the planner" gets sick, you have fewer celebrations–including your birthday.  (What chronically fatigued person wants to celebrate her birthday if it means planning everything?)  This is the lonely boat I was in for several years.  I was thankful that my parents understood this this year; a day before the May 17 finale of Mad Men (sigh), we celebrated my birthday!  Based on my previous experiences hosting costume parties mostly pre-myasthenia, I decide to only invite close friends who enjoy dressing up.  It works better for everyone this way.  Being sick and having a disease (or several) that have almost killed me, I can count the things I want in life on one hand–the Mad Men party is one of them. The intimate party was held at Bravo! Cucina Italiana.  It was a beautiful day.
PARTY TIPS
Invitations
Red, black, and white invitations.  Include the basic details of the party and a statement telling guests to wear 1960s attire.  In the email invitations, I included a picture of the cast and a video featuring award-winning Mad Men Costume Designer Janie Bryant.
A Mad Men Advertisement
I looked up several MM ads online and I chose the Bell Jolie ad, the iconic campaign ("Mark your man") that made Peggy Olsen a copyrighter.  I love lipstick.  I printed the ad on paper and framed it.  You can print this Belle Jolie ad here.
Mad Men Masks
The masks really made the party.  We wore masks of Don, Betty, Joan, Roger, Pete, and Peggy.  AMC's Mad Men website has had them for years, encouraging fans who are hosting Mad Men parties.  I printed the masks, we cut them out, and pasted them on to wooden sticks my dad found at the hardware store.  You can find the masks here.
Vintage Decor That Represents You
I wanted some images from the time period that best represented me.  Jackie Kennedy is my number one style icon of all time.  I've had this 1962 magazine of her for years.  In addition the magazine, I had several records I found at a Good Will store–one of them has a picture representing the myth of Camelot and the Kennedys.  (I tried to find the LIFE magazine that had Cassius Clay (Muhammed Ali's former name) standing over Sonny Liston since I love boxing but I couldn't find it.)
Candy Cigarettes
Okay, so this one is controversial especially since MM often addressed Big Tobacco's frequently denied the scientific evidence showing that smoking does cause cancer.  In light of the final episodes (trying not to spoil anything here), I felt iffy about the candy cigarettes but I already bought the World's Bubble Gum Cigarettes (24-packs for $17.61) weeks before the party here on Amazon.  The packs come in different brands: Lucky Lights, KINGS, Round up, and Victory.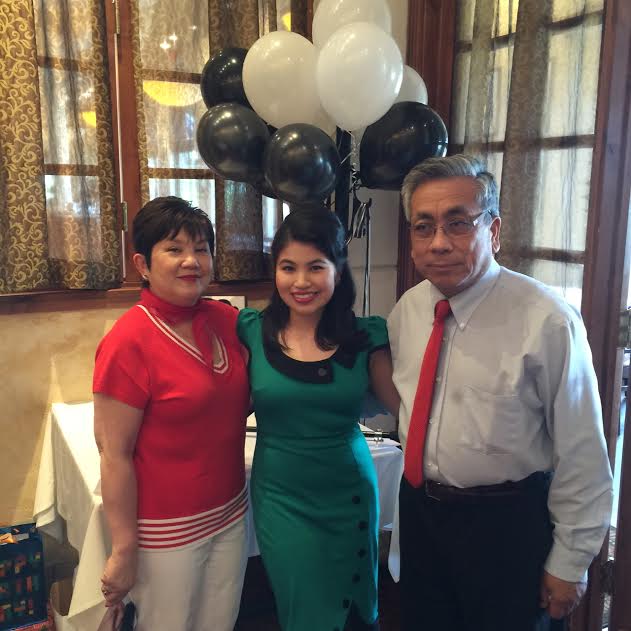 Game(s)
If you've read my blog before, you know I've had a pretty colorful life.  We played a game called, "Mad Men, Jessica's Life, or Both?" where people guessed if an event happened to me, a Mad Men character, or both.  Falling down a long flight of stairs?  Both.  Being stranded at the Sheraton?  Megan Draper.  Being stranded at a train station in the middle of a storm while a homeless man keeps harassing you?  Me.  The three guests who had the most correct answers won prizes.
Martini Glasses
I actually don't drink alcohol.  At the party, we had water and served a nice fruit punch in a bowl.  Even though we didn't serve alcohol, we asked the restaurant to only use martini glasses.
FASHION
Skinny Ties and White Button Down Shirts
For the men, nothing says Mad Men more than skinny ties, especially when paired with a crisp white shirt and/or a blazer.  See this picture of me with my friends, JJ and Kathy.  I got my dad a Retreez Skinny Tie with Stipe Textured in red here on Amazon for $9.99.
Hairdos
I really wanted a Mad Men hairdo.  I knew I could pull off the makeup (black eyeliner, red lipstick, I like my makeup bold more like Joan's than Betty's but they're both great as I've blogged about previously) but I knew the hair would be impossible for me to pull off.  So I had my hairdresser do this flip-do.  Green is my favorite color to wear so I wanted a Joan dress but Trudy Campbell hair.  I emailed my stylist a picture of Trudy's hair in advance.  When I blogged about getting Trudy's look, I said she is my favorite female character because she's got mad dance moves, she delivered that unforgettable speech to philandering Pete, and she seems like the female character I'd most want to be friends with on MM.
Dress
I got my lovely green dress here from Miusol ($39.90), which has a wide array of vintage styles in a variety of striking colors.  The dress was so me when I saw it, I knew it was the right one.  You can find another great Mad Men style dress (that screams Joan) from Pinup Girl Clothing here.
Scarves & Sunglasses 
My mom wore a red sweater with a red scarf tied around the neck and red cat eye classes.  You can find the chiffon scarf from Hey Viv! here on Amazon for $5.99.  The adorable red rhinestone glasses (here on Amazon) cost $6.95.
Breakfast At Tiffany's Style
One of the guests came dressed as Audrey Hepburn in Breakfast at Tiffany's–black dress with stands and strands of pearls.
My Past Fashionably ill Articles on Mad Men:
How to Get Betty Draper's Look
How to Get Trudy Campbell's Look
–Your Stylist, Jessica Gimeno